Our associates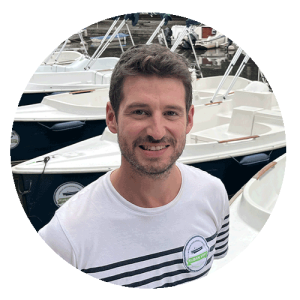 Xavier
Associate at Ruban Vert since 2011
In charge of the Technical Department, he's our boat fixer in chief and he knows them all inside out.
If you have a technical question about your boat, or want to know the name of a castle, a tree or a bird, or find out the meaning of life, for that matter…… this expert historian and DIY magician will no doubt have the answer!
His strong point: his forehand stroke
His phobia: drill bits
His hobbies: handball (HBC Nantes team), volleyball and cooking

Simon
Associate at Ruban Vert since 2016
Base manager and manager of the (many) seasonal worker teams.
He must have clocked up over a thousand kilometers walking up and down the pontoons in all weathers, but Simon will always make sure your boat is ready to sail.  He also likes to pamper his own sailing boat in his spare time! All hands on deck!
His strong point: winning table tennis tournaments
His phobia: box cutters
His hobbies: climbing, skiing and sailing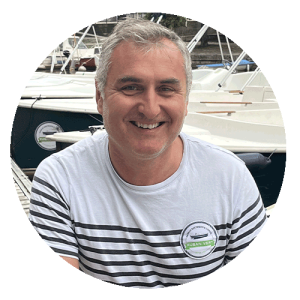 Matthieu
Associate at Ruban Vert since 2017
Ruban Vert manager.
Matthieu is more at home on the water than in the air, so you won't see him at the top of the mast, but he'll sail you anywhere.  He's a true geek, never without his PC or cell phone: you'll definitely be in touch with him at one point or another!
His strong point: his backhand swings
His phobia: ladders and stepladders
His hobbies: sailing, tennis and skiing