Do you want to have fun with family and friends? It's perfect timing RUBAN VERT offers to individuals an application to have a good time to make a Nautical Rally.
A chance to have a good time
This activity will allow you to navigate on the Erdre or the Sèvre while having a fun time.
Whether you want to build or strengthen ties, congratulate yourself or have fun, this activity is definitely for you!
Aboard our unlicensed electric boat, live a memorable experience.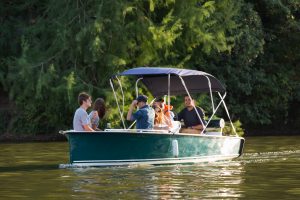 The course of the activity
All you need to do is download the "RUBAN VERT Rallye Nautic" application via Apple Store or Google Play. The activity consists of 6 challenges:
3 timed knowledge quizzes about Nantes and its region,
1 text with holes,
2 games of skill and memorization.
After each step, you have a photo session that you accessorize. At the end of the activity, you have a beautiful graphic fresco in your possession via your phone and therefore a beautiful souvenir of your browsing at RUBAN VERT!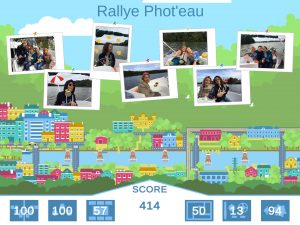 The choice is yours!
It's up to you, you can do the Nautical Rally in 1 or 2 hours, but also in a whole day. On Thursdays and Fridays, during the night, it is possible to sail until 21h00. It's up to you to choose the time that suits you!
You can book online now. If you have any other special questions, a contact form is available.
from 8€/boat