Cast off and celebrate a birthday on the river! Give the birthday person (and guests) a big surprise by taking them out in an electric boat.
An original birthday gift
Get off the beaten track and go for a truly original birthday present with a Ruban Vert cruise! Organizing a trip on the river by boat or canoe will take everyone by surprise and all the guests will enjoy a fun and friendly experience to remember.
There are several possibilities:
Organize a surprise boat outing on the day for a memorable experience shared by all;
Give a Ruban Vert gift voucher as a birthday present: the recipient can then use it when it suits him or her best, and choose their own hire options.
A special event for a special birthday
Skipper your boat on one of France's most scenic rivers on your birthday, with all your best friends on board? Ruban Vert can make it come true!
Whether your idea of fun is lazing on deck and soaking up the sun on board one of our silent electric boats, or working off some surplus energy in a kayak-canoe, we can find something to suit your taste:
A boat or canoe outing
Tables available on board the "Sensas" and "Most" models
Half-day, full day or evening until 9 p.m. (in the summer months)!
Have fun, relax and discover a new angle on familiar surroundings: surprise your guests and make it a birthday to remember!
Organizing a child's birthday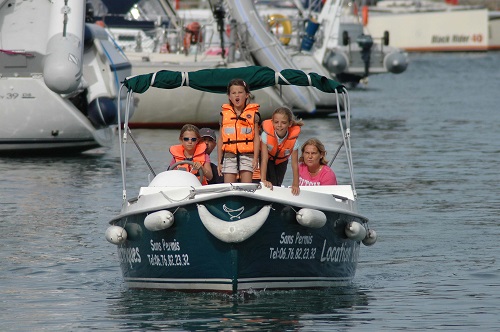 Short of original ideas on how to organize your kiddie's birthday party? Take them all out on a boat!
If your child has always dreamed of being a pirate, then why not turn him/her into a real little sailor for a few hours? The "Captain of the ship" and his/her jolly crew will have a whale of a time and a birthday to remember! Fun for all in a natural setting.
And for that extra special birthday touch, you can bring  drinks and snacks. An original birthday party and something to talk about in the playground!
For a more energetic birthday outing, hire our kayak-canoes at our Nantes boat hire base. Under adult supervision, the kids can paddle at their own pace and even have a race!
To book your birthday boat trip, contact us via our contact form. You can also book online! Don't hesitate to tell us about any special requirements!