Want to organize a team-building event for your staff, but not quite sure how to go about it? Why not try something completely different? Organize a nautical rally with electric boats or kayak-canoes.
Organize a truly original team-building activity
There's not shortage of team-building ideas around nowadays, so how can you do something different? If you are based in or around Nantes, Ruban Vert can help you organize a truly original team-building activity.Namely, a trip in an electric boat or canoe.
Whether the aim is to strengthen the team spirit for an ongoing project, reward your teams for a successful project or simply to get people to know each other better, come and have fun on the river!
Boost your staff's team spirit by sending them on a waterborne adventure on our electric boats or kayak-canoes! Guaranteed to break with the daily routine!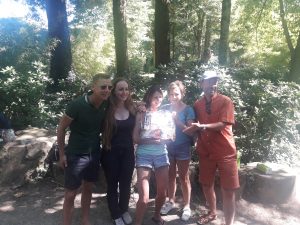 A nautical rally on the River Erdre, on electric boats
For your team-building activities in Nantes, our Nantes Ruban Vert boat hire can organize a nautical rally on board our silent electric boats!
Equipped with tablets, each crew of 6 to 8 will be asked to visit specific points of interest along the river and solve a number of challenges.
A fun, entertaining and mind-provoking team-building activity for your staff to rediscover Nantes and develop their team spirit.
For more information on the nautical rally, please contact us via our contact form.
Bespoke team-building ideas
Organizing successful team-building activities is by no means easy. Many parameters, in particular the number of participants, have to be taken into account.
Our Ile de Versailles Ruban Vert boat hire base in Nantes can cater for groups of up to 120!
Depending on your aim, you can choose a short 1 or 2-hour trip, or book a half-day or full day on the river. In spring and summer, you can even carry on through to 9 p.m. or choose our After-work option! For a short break or a real challenge in a relaxed atmosphere, choose the option that best suits your needs.
And to round off the occasion, we can provide aperitif picnic hampers made by Oh my Brunch with drinks and sweet and savory snacks.

To book your team-building activity in Nantes on one of our boat hire bases, send us a message via our contact form. We can work out together which option best suits your particular needs!