For a really romantic way of visiting Nantes, why not hire an electric boat and glide along the banks of the River Erdre or the Sèvre nantaise? Enjoy the river as a twosome, at your own leisurely pace.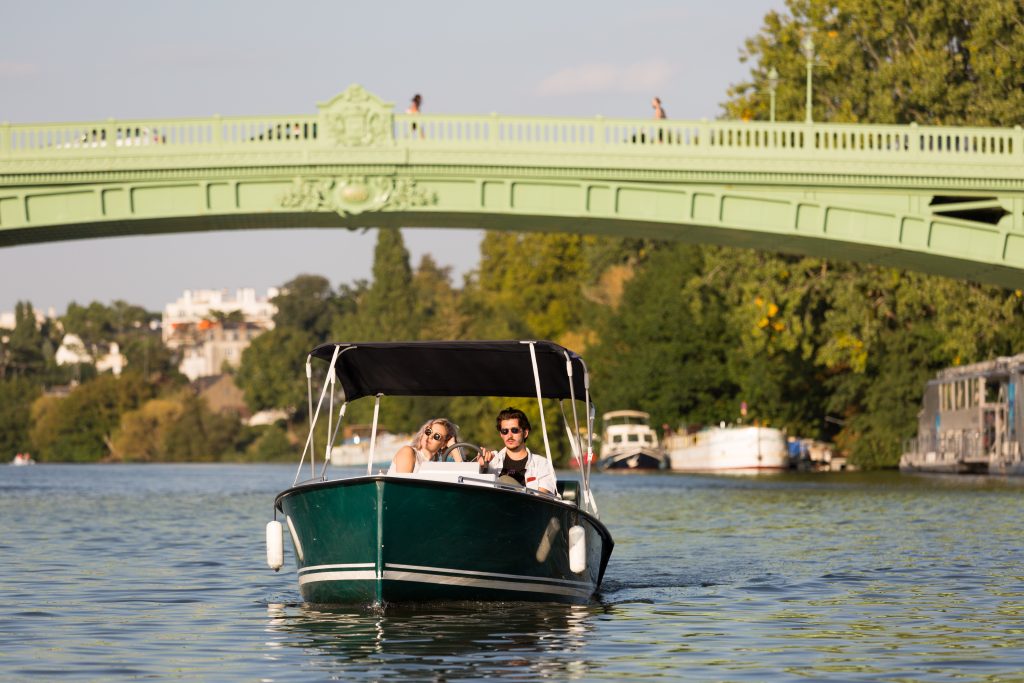 Show her/him your real feelings on board a boat
What can be more romantic than a boat trip to tell your better half that you love her/him?
Imagine your sweetheart, sitting next to you as you glide silently down the river. Surrounded by wildlife, birds and romantic castles.
Now's the time to pull out all the stops: declare your love in words or song, open the champagne, open a gourmet picnic hamper and why not, bring out an engagement ring? 😉
After all, Paris or Venice are not the only places where you can have a romantic day out!
With our electric boats, no need to have a gondolier by your side: on our license-free boats, there will be just the two of you.
Romantic weekend in Nantes
Want to make a romantic week-end of it? Here is the kind of programme you could organize for your sweetheart:
Begin the week-end with a tour of the city sites. The magnificent Castle of the Dukes of Brittany, the giant mechanical "machines de l'Île", the LU tower… Jules Verne's home town has much to offer in the way of heritage!
The evening calls for a romantic dinner for two at the restaurant. Gazing into each other's eyes, fingers touching, lights down low, and perhaps a romantic suite in one of the city's best hotels…
The following day, off you go with your sweetheart on a boat trip along the River Erdre or River Sèvre. And don't forget to take pictures for those happy memories of your romantic outing!

Book a romantic outing in Nantes
Book your electric boat on the date of your choice. For a half-day or a full day, choose the package and the river that best suits your romantic twosome!
Our electric "Sensas" and "Most" models are equipped with tables: remember to book them if you are planning a picnic on board.
And don't hesitate to tell us about any particular requests you might have to make the occasion, even more special!
Write to us with our contact form !