Whether you are on holiday in Nantes or live there all year round, choose an original way of exploring this beautiful city by sailing on the River Erdre!
Discover Nantes by hire boat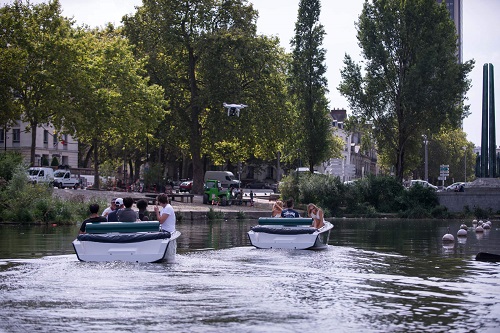 Spending a few days in Nantes, for a week-end or a short stay? Living in Nantes and looking for something different to do? Why not surprise your partner or your friends and take them on a boat trip with a difference?
Hire an electric boat and discover or re-discover Nantes while avoiding the crowds in the city streets and tourist sites. See the city's many architectural gems from a completely different angle.
Set off from our base on the Ile de Versailles, and sail up the River Erdre to Sucé-sur-Erdre, north of the city, with no end of things to see along the way! After just 15 minutes of city navigation, you'll be right out in the countryside. Majestic, centuries-old chateaux dot the banks of the river, which is also home to all kinds of birds!
An original way to visit Nantes
Our electric boat hire base is right in the heart of the City, on the Ile de Versailles! Strategically located to plan your city tour.
Plan a unique day out in Nantes:
Start with the city center sights in the morning: the amazing Machines de l'Ile, the historic city center, the cathedral, and much more.
Then head for the Ile de Versailles and enjoy a quiet rest in the Japanese Gardens before wandering over to our boat hire base.
And off you go! Spend the afternoon on the River Erdre on board one of our electric boats, taking in the chateaux and the rich variety of fauna and flora as you glide past the banks!
Ruban Vert even invites you to enjoy one of our tasty picnic hampers on board, and two of our boats, the "Sensas" and the "Most" are equipped with tables.

Organizing your visit of Nantes by boat
For a perfect day in Nantes, make sure you plan well in advance. Decide on the number of people involved, the ideal date(s) and the route you want to follow.
See our different options: electric boats or kayak-canoes, half-day or full day etc.
Still not sure? Why not contact us to talk about the options? We will be able to work out the best option for an unforgettable experience!
Write to us with our contact form! Or if you prefer the internet: You can also book on line!