Planning for your best friend's wedding? Organize a fantastic day out for his stag do with Ruban Vert!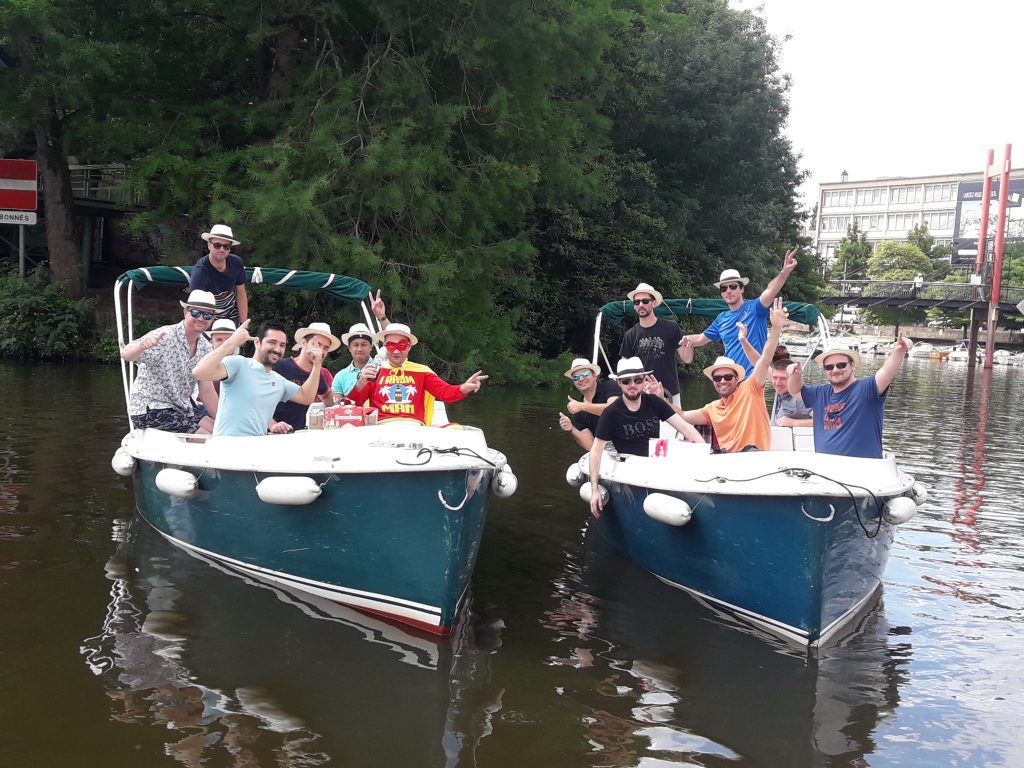 An unforgettable stag do with a boat trip
Are you the best man and looking for an original idea for your best friend's stag do? Rather than a bar crawl, why not go for a trip on one of France's most romantic rivers?
Ruban Vert can organize a unique stag do event: a trip on the river on an electric boat or by kayak-canoe! Give your best friend the surprise of a lifetime for his stag do at one of our boat hire bases: In Nantes, Vertou or Sucé-sur-Erdre.
There are several options possible:
A cool, relaxed trip on an electric boat or a more energetic trip by kayak-canoe.
Gourmet picnic hampers, and proper picnic tables on our "Sensas" and "Most" models.
One hour's hire to a full day out until 9 p.m. in summer!
A few tips for a successful stag do
It is not every day you get married, so it's important to make sure the day before is unique and unforgettable! A few tips for a successful stag do:
Keep it a secret from the future bridegroom right up to the last minute: little will he guess that you have planned a boat or canoe trip!
Tell all the guests to dress up and bring along any accessories they might need, and don't forget to take pictures!
Mind you take into account personal preferences, phobias and food allergies or special diets. You don't want to spoil the fun at the last minute!
You can set up an online gift fund to pool the funds for the even and pay for wedding gifts with any money left over.
Organizing a successful stag do
The first thing is to know who will be there. Then you can start planning… the date! Make sure everyone agrees on the date well in advance.
Now you've got the date and who will be there, you can start planning the big day and booking the activities!
Remember to book your boat or kayak-canoe trip well in advance. We can then discuss what kind of outing is best suited to your needs.
You can mail us via our pre-booking form. You can also book on line!