Are you fed up with wandering the streets of Nantes City Center? Why not try an original way of discovering the city? Explore new horizons with Ruban Vert on board our electric boats!
An original visit of Nantes and its surrounding area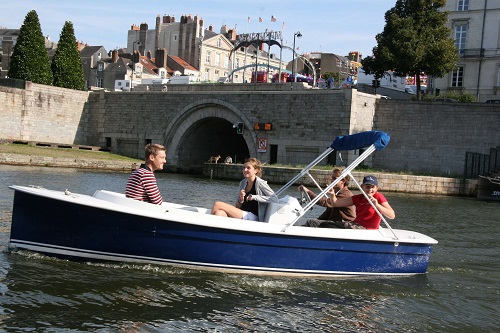 Forget all the traditional tourist circuits and get off the beaten track: take to the river and get a new angle on the "City of Dukes"!
With Ruban Vert, you can visit Nantes on its waterways thanks to our silent electric boats or kayak-canoes.
Surprise yourself and your family and friends by organizing an original trip along the River Erdre, the Sèvre nantaise or the Plaine de Mazerolles.
On board our electric boats that can take up to 4 to 10 passengers, discover the historical and natural treasures that line the Nantes waterways.
Hiring an electric boat: never short of ideas
Whoever you are and for whatever purpose, Ruban Vert electric boats are fit for any occasion:
On board our "Sensas" or "Most" models, equipped with tables, an aperitif, afternoon snack or picnic will make it even more a day to remember!
Organizing your original boat trip
For a successful boat trip, make sure that you book well in advance!
Number of passengers, dates, electric boat or kayak-canoes: we will then work out the options best suited to your plans. Our boats can be hired for just one hour or up to a full day, and until 9 p.m. in summer!
Contact us via our contact form to find the best hire option for you. Already sure what you need? Then don't hesitate to book on line.