Sports managers and trainers often find that a break from the usual training routine does a lot to boost team cohesion. Ruban Vert can organize electric boat outings for Nantes' sports teams.
An original activity for sports teams
Sports clubs spend the whole year training hard to achieve the best results in their sport. Sporting seasons can be both mentally and physically exhausting. Ruban Vert can help you organize an original outing where your members can relax and get away from it all!
Take them on an electric boat trip or a kayak-canoe outing, to boost and focus your members' collective energy. Whether your field is an individual sport or a team sport, get them to enjoy a fun moment all together in a completely different setting.
Leave the gym or training center behind and get out into the open air, in and around Nantes. Your players or athletes can enjoy a big breath of fresh air and relax mentally and physically while taking part in a fun, creative and stimulating activity!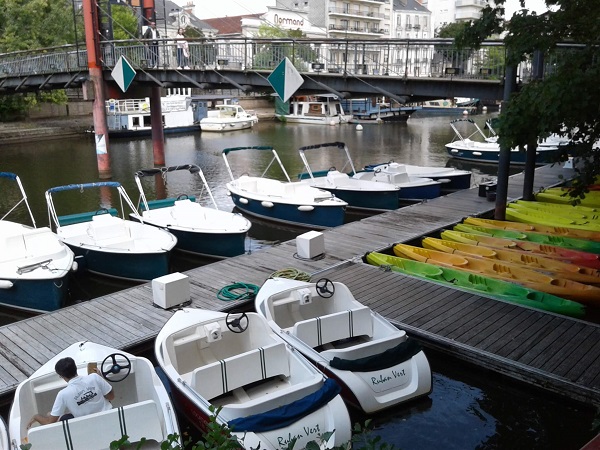 Different options for team outings
Whatever the aim, Ruban Vert will help you put together an outing designed to develop your sports club's team spirit.
For a relaxing outing, to reward your players and help them let off steam at the end of the season, a cruise on an electric boat on the River Erdre or the River Sèvre, can be ideal.
Want to focus energies and boost motivation? In that case, a kayak race or a nautical rally with digital challenges on a tablet on board our boats can help hone their competitive spirit!
Several different options are available:
Electric boats or kayak-canoes
Half-day, full day or hourly boat hire
Picnic hampers with drinks and sweet and savory snacks
Nautical rally with tablet challenges: click here for further details
Organize a team cohesion internship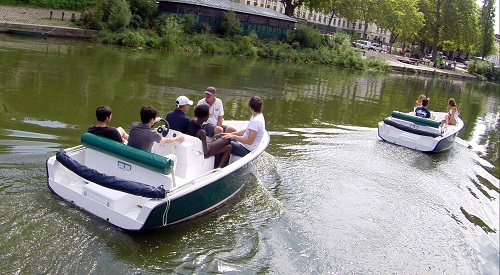 A few tips for a successful boat trip or kayak-canoe outing with your players or athletes:
First of all, get a clear idea of the aim: relaxation, motivation, team-building, discovery…
Choose the right time: at the end of season for team relaxation and reward, before an important match or competition, to boost team motivation and team-spirit…
For a team-building session over several days, plan a range of activities and games.
For a successful outing, book well in advance, and tell us what kind of activities you plan to organize and what you will need (boats or kayak-canoes, picnic hampers, etc.) and how long for.
Any questions or special requirements? Leave a message via our contact form. We can then work out what will best suit your needs. Don't hesitate to book directly online if you have already made up your mind!