Ever had that "where on earth shall we go with the children this week-end" syndrome? Here's the answer! Ruban Vert can organize a unique family outing: a trip on the river in a boat or canoe!
A unique activity to do with the kids: a boat trip
Whether it's for an afternoon, a full day in the school holidays or a family week-end, as soon as the sun comes out, head for the river!
Rent an electric boat on one of our 4 bases: Nantes, Nort-sur-Erdre, Vertou or Sucé-sur-Erdre. Discover the landscapes and points of interest of each route. An opportunity to offer children an activity that is both physical and fun!
During their afternoon on the river, the kids will be able to:
Discover and learn the basics about navigation.
Become aware of the importance of safety rules.
Discover new perspectives on familiar landscapes.
Find out about places and historical monuments thanks to our information packs.
An idea for a weekend family outing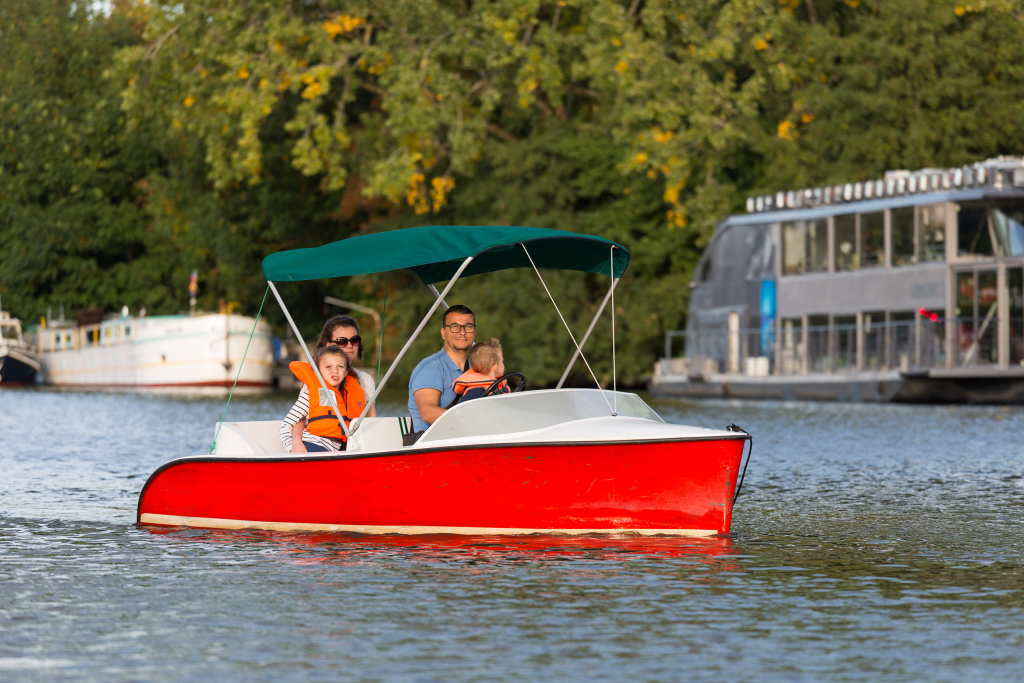 When you have exhausted all your ideas and tried every indoor or outdoor games you can think of, Ruban Vert can come to the rescue!
Choose one of our boats for a family outing and discover the incredible variety of Nantes' heritage as you sail along the river. We offer routes where children can appreciate the diversity of the fauna and flora. They will also be able to learn anecdotes about historical estates.
Do they need to get rid of some of that surplus energy? Kayak-canoes can be hired for one hour or more at our Île de Versailles base in Nantes. A fun sporting activity for all the family!
Something that mom and dad will enjoy just as much as the kids and something they can tell their friends about in the playground.
Organize your family boat trip
Book your family kayak-canoe adventure or electric boat trip well in advance and give the kids a surprise they will remember.
When booking, remember to tell us whether it is for a particular occasion like a birthday outing with your children's friends or a family outing. We will make this moment unforgettable.
Our "Sensas" and "Most" boats are equipped with tables, so remember to book these models if you're planning a teatime snack or a picnic!
You can also mail us via our contact form. You can also book on line!